Flying High on the use of Red hat Enterprise Linux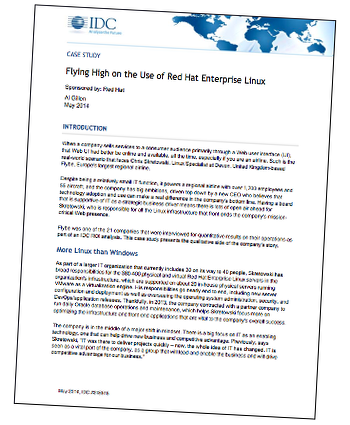 Flybe Airline's Chris Skretowski says, "[Previously,] IT was there to deliver projects quickly—now, the whole idea of IT has changed. IT is seen as a vital part of the company, as a group that will lead and enable the business and will drive competitive advantage for our business."

As part of an IDC ROI analysis, this Flybe Airlines case study presents quantitative operational results of their decision to standardize on Red Hat® Enterprise Linux®.
SOME FLYBE AIRLINES COMMENTS ON THEIR RED HAT EXPERIENCE:
"Support was absolutely brilliant"
"We have never had any problems go unresolved"
"Red Hat Enterprise Linux is very stable"
Read the IDC case study for more details on how Flybe Airlines is soaring with Red Hat Enterprise Linux.