Do more with less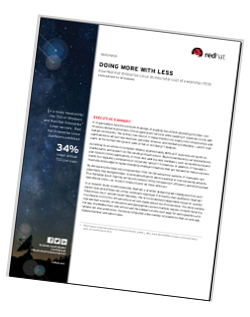 IT organizations constantly juggle 2 almost opposing priorities: continuously delivering business-critical application services while keeping IT expenses in line with budget constraints. But with Red Hat, you don't have to choose 1 or the other.

A newly released study demonstrates how Red Hat® Enterprise Linux® platforms can yield dramatic cost savings over an infrastructure based on Microsoft Windows. Read this whitepaper to learn how moving workloads to Red Hat Enterprise Linux can significantly lower your TCO.
Key savings: Red Hat Enterprise Linux vs. Windows
34% lower annual TCO per user
29% lower annual infrastructure costs per user
41% lower annual IT staffing costs per user
54% lower annual lost productivity costs per user
›› Learn more about Red Hat Enterprise Linux .