A COMPETITIVE REVIEW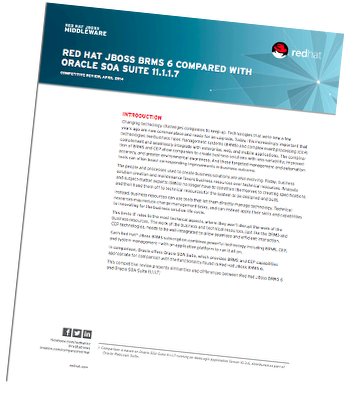 You need technologies like business rules management systems (BRMS) and complex event processing (CEP) to complement and seamlessly integrate with enterprise, web, and mobile applications. The combination of BRMS and CEP allows you to create business solutions with less variability, improved accuracy, and greater environmental awareness—all toward improving business outcomes. This competitive review presents the similarities and differences between Red Hat® JBoss® BRMS 6 and Oracle SOA Suite 11.1.1.17.
SIMILARITIES AND DIFFERENCES:
Similar to Oracle SOA Suite, Red Hat JBoss BRMS offers business rules and complex event processing.
Unique to Red Hat JBoss BRMS are business rules governance, unified complex events and business rules syntax, a single integrated development environment for all functionality, and a single Java™-based platform to run it on.
Cost savings realized by choosing Red Hat lets you start more projects, deploy technology more pervasively within your enterprise, and apply more of your budget towards innovation.
Read the details of these similarities and differences in the complete competitive review.

Download the competitive review.