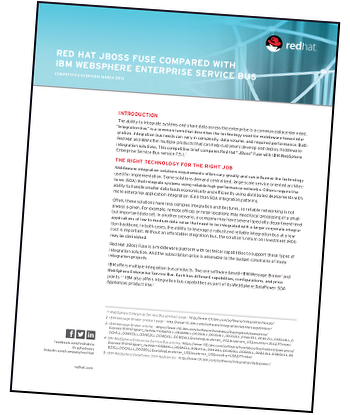 Red Hat JBoss Fuse Compared with IBM WebSphere Enterprise Service Bus

The ability to integrate systems and share data across the enterprise is a common datacenter need. "Integration bus" is a common term that describes the technology used for middleware-based integration. Integration bus needs can vary in complexity, data volume, and required performance. Both Red Hat and IBM offer multiple products that can help customers develop and deploy middleware integration solutions.

This competitive brief presents the high-level differences between Red Hat JBoss Fuse and IBM WebSphere Enterprise Service Bus version 7.5.1, and also examines the significant economic difference between the two. Read this paper to learn how to start more projects, deploy technology more pervasively within the enterprise, and apply more of your budget towards innovation with Red Hat JBoss Fuse.

Please register below to download the whitepaper.