red hat enterprise linux protects and extends microsoft windows investments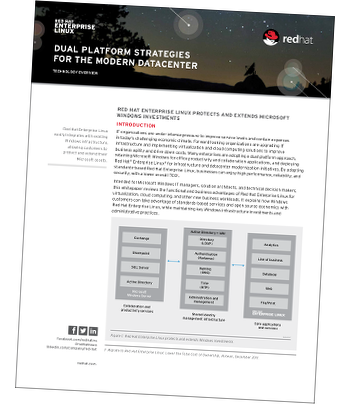 IT organizations are under intense pressure to improve service levels and contain expenses in today's challenging economic climate.

Many enterprises are adopting a dual platform approach, retaining Microsoft Windows for office productivity and collaboration applications, and deploying Red Hat® Enterprise Linux® for infrastructure and datacenter modernization initiatives. By adopting standards-based Red Hat Enterprise Linux, businesses can enjoy high performance, reliability, and security, with a lower overall TCO.
Red Hat Enterprise Linux satisfies key business requirements:
Stringent performance and security
High scalability and reliability
Protection and extension of existing IT investments
Equivalent functionality at comparable cost
Learn more about business drivers behind datacenter modernization with Red Hat Enterprise Linux.