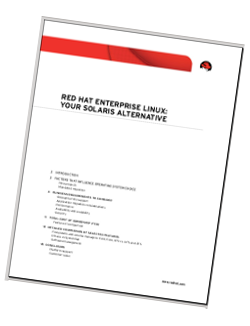 IT professionals previously chose Oracle Sun SPARC to power their IT infrastructures for the hardware performance and the robust Solaris operating system.

However, the case for SPARC hardware has become less compelling now that x86_64 servers can compete with it. This is particularly true with with large, multi-core x86 systems, such as the latest 128-core system, that are designed specifically for Linux®. Red Hat® Enterprise Linux has emerged as the operating system of choice to take advantage of open, industry-standard architectures.

This whitepaper, "Red Hat Enterprise Linux: Your Solaris Alternative," reviews some key features of Solaris and Red Hat Enterprise Linux to help you evaluate and justify a move to Linux.