If your data is critical to your business, a private cloud is a must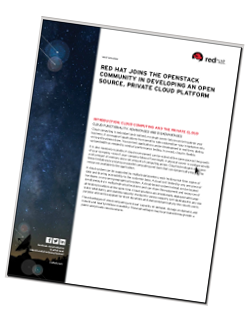 With a private cloud, you control where your data resides, you control who accesses it, and you can monitor access to the data and the systems that provide this functionality.

Red Hat has proven experience taking the best of open source development to the enterprise—and plans to repeat this success with the OpenStack® private-cloud platform.

Red Hat® Enterprise Linux® OpenStack Platform combines the performance and reliability of the Red Hat Enterprise Linux operating system with the enterprise-grade product support your business needs to implement and maintain your cloud infrastructure.
In this whitepaper we explore:
Cloud functionality: advantages and disadvantages.
What a private cloud means to your business.
Advantages of implementing Red Hat for your private cloud.
» Learn about Red Hat Enterprise Linux OpenStack Platform

The OpenStack® Word Mark and OpenStack Logo are either registered trademarks / service marks or trademarks / service marks of the OpenStack Foundation, in the United States and other countries and are used with the OpenStack Foundation's permission. We are not affiliated with, endorsed or sponsored by the OpenStack Foundation or the OpenStack community