The road to enterprise p
aa

s whitepaper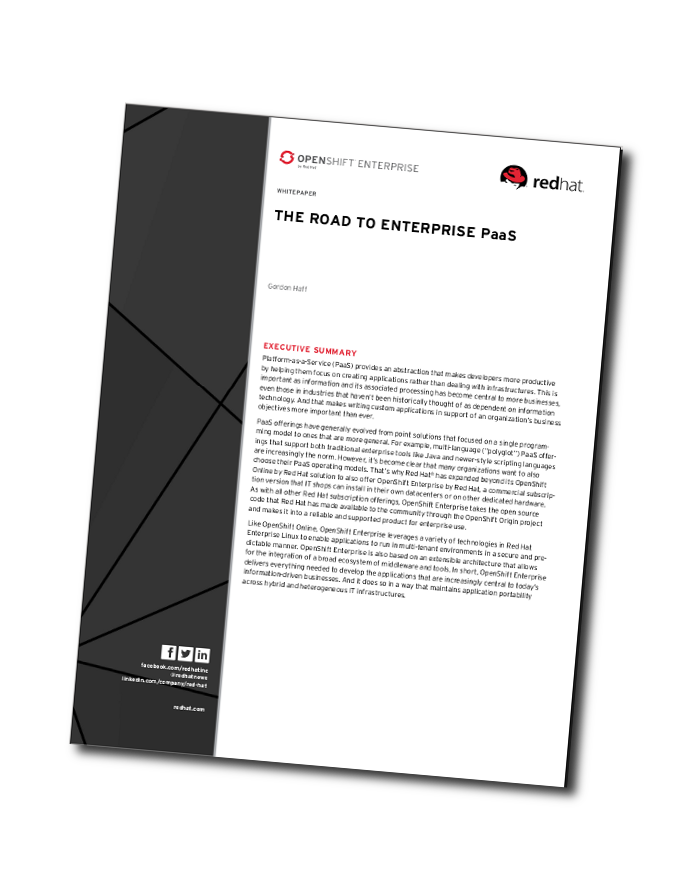 Need to deliver apps faster? A cloud computing Platform-as-a-Service (PaaS) solution, like OpenShift Enterprise by Red Hat®, can help. As with OpenShift Online, Red Hat's public PaaS, OpenShift Enterprise uses a powerful stack of Red Hat technologies that makes life easier for application developers, IT operations staff, and enterprise architects.
With automation technologies and a cloud architecture, PaaS lets developers focus on creating applications rather than dealing with infrastructures. PaaS also helps IT operations by increasing operational efficiencies and optimizing hardware usage.
In this whitepaper, you'll learn:
The many benefits of PaaS for the enterprise.
How Red Hat has made PaaS consumable by the enterprise with the OpenShift Enterprise private PaaS.
How OpenShift Enterprise works and about its powerful stack of technologies.
Learn more about OpenShift Enterprise.