IDC whitepaper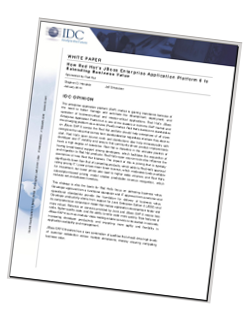 IDC studied the business value of adopting Red Hat® JBoss® Enterprise Application Platform by interviewing 6 large, US-based companies that have been using JBoss EAP to develop and run custom applications for at least 12 months.

Some of the financial benefits the 6 companies experienced moving from IBM WebSphere and Oracle WebLogic to Red Hat JBoss EAP, included:
Time to develop custom applications was reduced by an average of 16 weeks (39%).
Infrastructure costs supporting application development were reduced by 65%.
More efficient application development resulted in 51% more applications being developed in 1 year.
An ROI of 569% paid back their initial investment in less than 6 months after deploying the platform.
Read about the other benefits in the whitepaper, "How Red Hat's JBoss Enterprise Application Platform 6 is Extending Business Value."