Some Functional similarities and many technical differences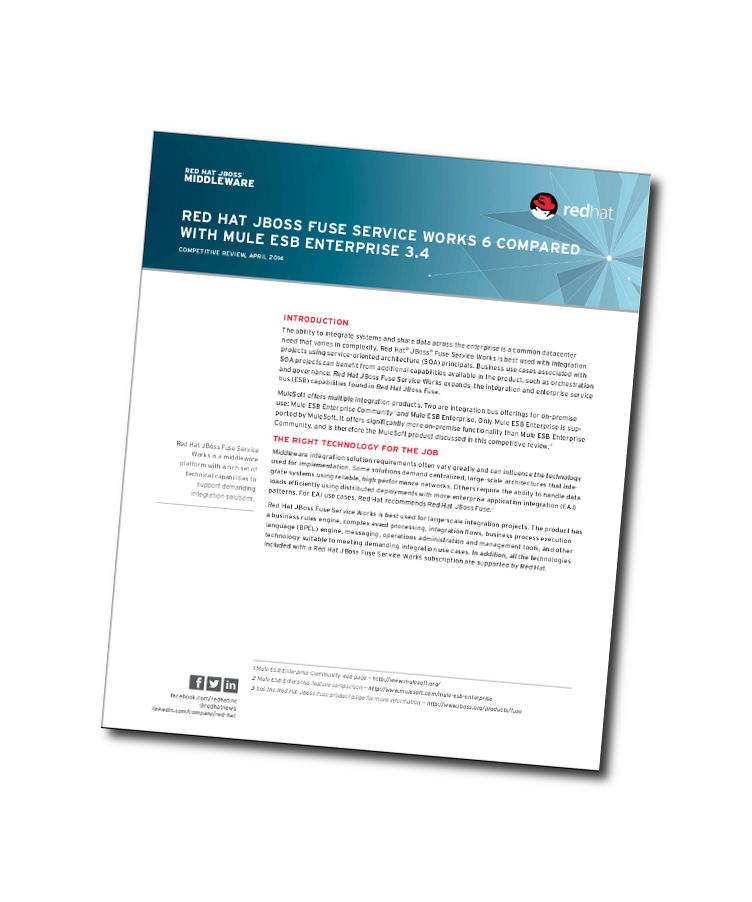 Middleware integration solution requirements often vary greatly and can influence the technology used for implementation. Some solutions demand centralized, large-scale architectures that integrate systems using reliable, high-performance networks. Others require the ability to handle data loads efficiently using distributed deployments with more enterprise application integration patterns.
Advantages of Red Hat® JBoss® Fuse Sservice Work 6:
Focuses on using open standards for both product implementation and integration communication.
Allows you to work with enterprise versions of current jBPM and Drools technologies sourced from JBoss community projects.
Is available in 16- and 64-core entitlements, as a subscription that is renewed annually or (for a discount) every 3 years.
A 2-year, 16-core Red Hat JBoss Fuse Service Works premium managed subscription is more than $100K less than Mule ESB Enterprise at list price, or 45.3%of the MuleSoft cost.
Get the details of these advantages in this whitepaper, and learn why Red Hat JBoss Fuse Service Works is the better choice for large-scale integration projects.