Red Hat offers a cost-effective, customer-friendly OpenStack implementation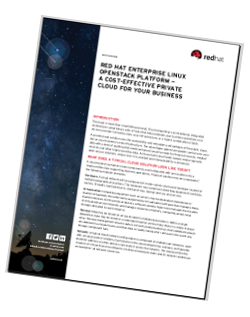 A private cloud solution uses the accessibility and redundancy advantages of the public cloud, but on your business's own infrastructure. This gives you greater control over your data with a level of auditing that meets enhanced security needs for financial records, medical records, and other highly sensitive data. As the private cloud tends toward vendor-agnostic open source solutions, you also avoid vendor lock-in and get improved interoperability.
This whitepaper explores:
What a typical cloud solution looks like today.
Cloud advantages for industry verticals.
The private cloud market.
The OpenStack® platform.
» Learn about Red Hat® Enterprise Linux® OpenStack Platform
The OpenStack® Word Mark and OpenStack Logo are either registered trademarks / service marks or trademarks / service marks of the OpenStack Foundation, in the United States and other countries and are used with the OpenStack Foundation's permission. We are not affiliated with, endorsed or sponsored by the OpenStack Foundation or the OpenStack community