Data protection is more complex today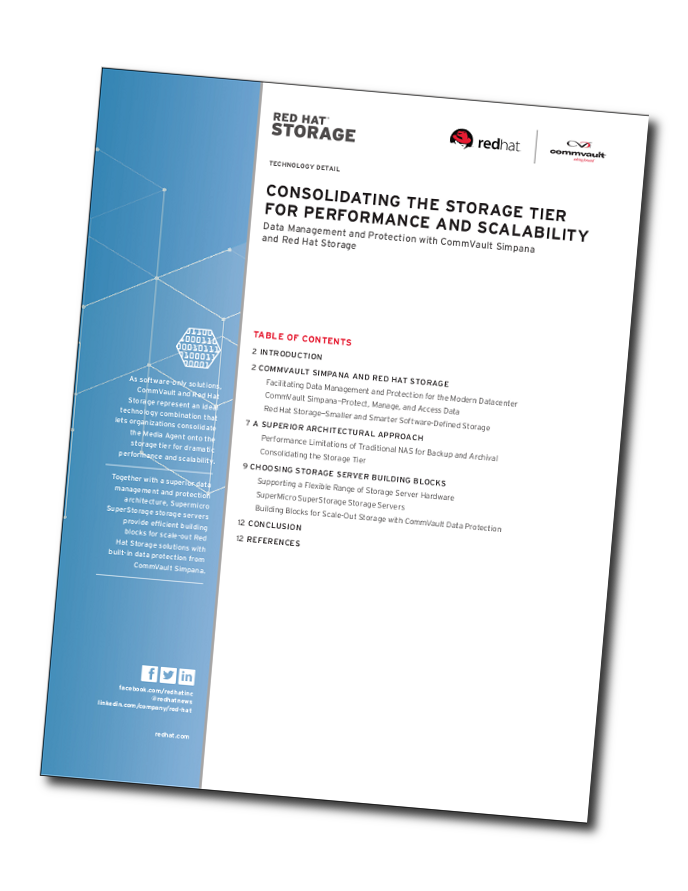 Staggering unstructured data growth means there's more to protect. But a flat IT budget means there's less to do it with. The disruption of traditional data protection models is driving the need for more scalable, cost-effective underlying storage. And increased regulatory compliance and trends like multitenancy make flexible storage architectures essential.
Simply buying more tier-1 storage isn't the answer
You need to scale your data protection solution along with storage capacity. Combining CommVault Simpana with Red Hat® Storage Server——both software-only products——gives you the flexibility needed to build appropriate and cost-effective storage solutions, without being locked in to any 1 storage vendor.
Using CommVault Simpana with Red Hat Storage Server:
Unifies storage management across data types, diverse storage infrastructure, and remote locations—all based on open scale-out storage.
Lets you back up, replicate, archive, search, and analyze data from anywhere, and restore data without fail.
Improves backup performance and throughput, dramatically shortening backup windows.
Lets you build storage solutions tailored to your needs, avoiding costly proprietary NAS solutions while riding technology price curves for storage, processing, and memory.
Lowers the cost per terabyte, with up to a 52% reduction in up-front storage costs and a 20% reduction in operating costs.