RED HAT JBOSS BPM SUITE ALIGNS WITH 5 CRITERIA CRITICAL DECISION-MAKERS USE TO SELECT BPM SOLUTIONS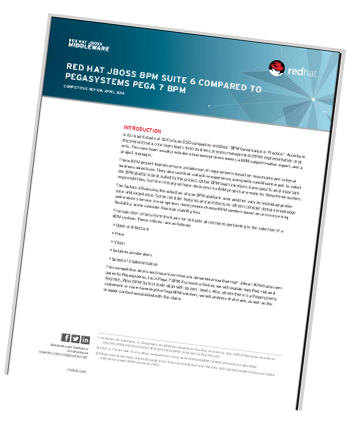 A recent study of 50 Fortune 500 companies revealed that a core team leads most business process management (BPM) implementation projects: a business-process owner, a BPM subject-matter expert, and a project manager.

They ensure a stable set of requirements based on business objectives, and they use their collective experience, along with constituent input, to select the BPM platform best suited to the project.
SELECTION CRITERIA FOR A BPM SOLUTION:
Open Architecture
Price
Vision
Solution accelerators
Speed of implementation
This competitive brief uses these five criteria to determine how Red Hat® JBoss® BPM Suite compares to Pegasystems, Inc.'s Pega 7 BPM. For each criterion, it explains how Red Hat and Red Hat JBoss BPM Suite closely align with buyers' needs.