Standardize for I.T. efficiency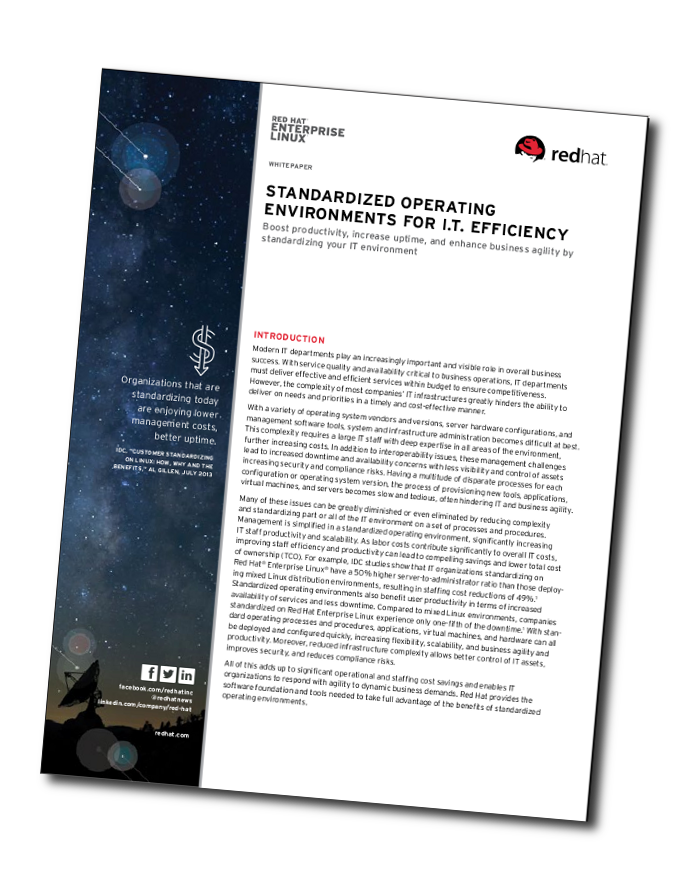 Modern IT departments play an increasingly important and visible role in business success. Business operations depend on service quality and availability. So IT must deliver effective and efficient services within budget to ensure competitiveness−easier said than done.

One solution? Standardization. Organizations that standardize their operating environments are enjoying lower management costs and more uptime.¹ Read the whitepaper to learn how and why standardizing works.
Benefits of standardizing on
Red Hat Enterprise Linux
IT departments standardized on Red Hat® Enterprise Linux® suffer only 20% of the downtime experienced by mixed and nonpaid distributions.
IT departments deploying Red Hat Enterprise Linux spend 82% less time dealing with server downtime issues and 92% less time dealing with help desk issues.
Total operating costs are 39% lower and IT staffing costs are 49% lower with Red Hat Enterprise Linux.²
| | |
| --- | --- |
| 1. | IDC, "Customer standardizing on Linux: How, why and the benefits," Al Gillen, July 2013. |
| 2. | IDC, "Understanding Linux Deployment Strategies: The Business Case for Standardization on Red Hat Enterprise Linux," April 2011. |