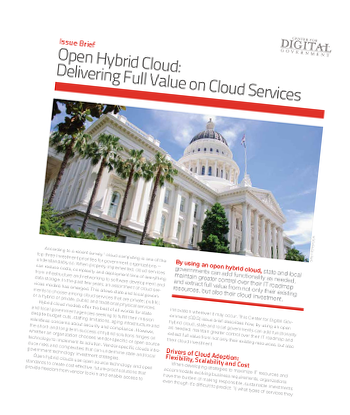 According to a recent survey, cloud computing is 1 of the top 3 investment priorities for government organizations—and understandably so. When properly implemented, cloud services can reduce costs, complexity, and deployment time of everything from infrastructure and networking to software development and data storage. Open, hybrid clouds provide the best of all worlds.

By using an open hybrid cloud approach, agencies can add functionality as needed, maintain greater control over their IT roadmap, and extract full value from not only their existing resources, but also their cloud investment.


DOWNLOAD THE ISSUE BRIEF TO LEARN MORE ABOUT:
Drivers of cloud adoption.
Cloud formations.
Benefits & challenges of cloud services.
How to maximize your investment.
Read the issue brief to see how how an open hybrid cloud approach can deliver full value on cloud services for your agency.